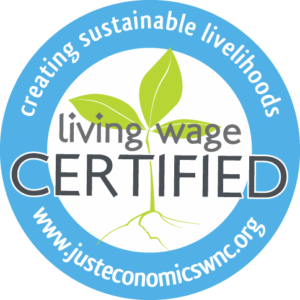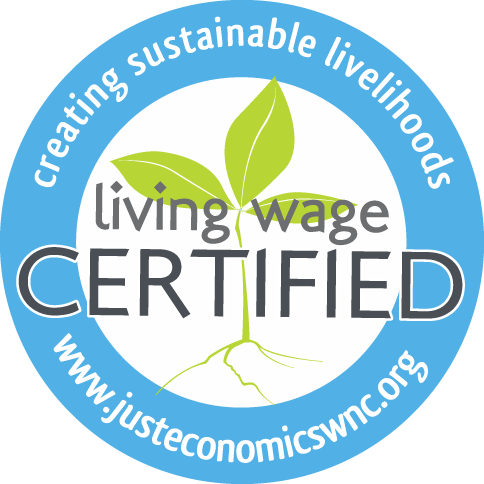 In March 2008, JE launched our Living Wage Certification Program, which identifies and promotes local employers that pay a Living Wage. Although the program originated in Buncombe and Transylvania, we now have employers in several counties in WNC. Since 2008, we have Certified 400+ local employers.
Our program is an innovative approach to addressing the living wage issue modeled after a program initiated by the Tompkins County Workers' Center in Ithaca NY. Our program is currently the largest of its kind in the country and we worked with the Tompkins County Workers' Center and Interfaith Worker Justice to provide a model for other communities to use.
The Certification Program aims to reward existing Living Wage Certified Employers in our community, to provide employers with tools and incentives to increase workers' wages up to a living wage, to connect consumers to employers that provide a living wage ,and to promote a just and sustainable local economy. It is a great way for a local employer to set themselves apart in our community, to promote the fact that they acknowledge the value of their employees and to be rewarded for it by local consumers who understand the value of a living wage.
The Living Wage Rate:
The Living Wage Rate for Buncombe County in 2023 is $20.10/hour.
The Buncombe County Pledged Living Wage Rate for 2023 is $18/hour with a pledge to increase wages yearly at a rate of 3% plus annual inflation until reaching the Living Wage Rate.
For Rural WNC counties, the Living Wage Rate is $16.40/hour.
---
---
Criteria for Certification
Pay at least a Living Wage to all regular full- and part-time employees.
A Certified employer may pay a wage that is less than the living wage to employees who are under 18 years old; employees who are in a probationary period (limited to 90 consecutive calendar days) or hired temporarily (limited to 60 days a year); to interns, apprentices, and tipped employees that meet our criteria.
For additional information and commonly asked questions about the criteria for certification, see our Certification Policies and Eligibility requirements.
Have concerns about an employer's certification? Submit an Anonymous Concern →
---
Benefits of Certification
"Living Wage Certified" certificate and window sticker for display at your place of business.
Access to Just Economics Living Wage Job Board
Special profile of your business on the Just Economics website in our Certified Employer Directory.
Free promotion of your business through the Just Economics mailing list, Facebook Followers and our printed lists.
Participation in press conferences and JE events aimed at promoting the Living Wage Employer Certification Program and the employers that meet our criteria.
Being part of a growing network of local employers dedicated to building a more sustainable economy.
Free Participation in our Employer Networking Events and Business Education Programs.