1. Determine Your Eligibility
To apply, you must meet the Living Wage Rate requirements.
The Living Wage Rate:
The Living Wage rate for Buncombe County in 2022 is $17.70/hour (with or without health benefits).
The Buncombe County Living Wage Rate for 2021 was $17.30/hour without qualifying employer provided health insurance, or $15.80/hour with employer provided health insurance. 
For Rural WNC counties, the Living Wage Rate is $13.00/hour.
*Some Living Wage Certified businesses have applied for an extended timeline to adjust to the living wage rate due to COVID-19. Just Economics is in touch with these businesses about adjusting wages within a set time frame.
---
2. Application and Fee
For Buncombe County, the fee is as follows:
Not-for-profit (non-profits, faith communities, etc): NO FEE
Employers with 0-10 employees: $50
Employers with 11-25 employees: $100
Employers with 26-50 employees: $200
Employers with 51+ employees: $250
There is no application fee for employers outside of Buncombe County.
Just Economics implemented an application fee to support the staff and infrastructure necessary to maintain this program. Fees are to be paid at the time of the application for certification or at the time of re-certification (re-certification is required every 2 years in order to remain in the program). After submitting your application you will be directed to a payment processing link. Your application will be processed once the fee is paid.
Join as a Member
Alternatively, you can personally support the work of Just Economics as an individual by joining as member. (Individual members are not listed in the directory.)
Apply now for a Living Wage Certification
---
3. Receiving Your Certification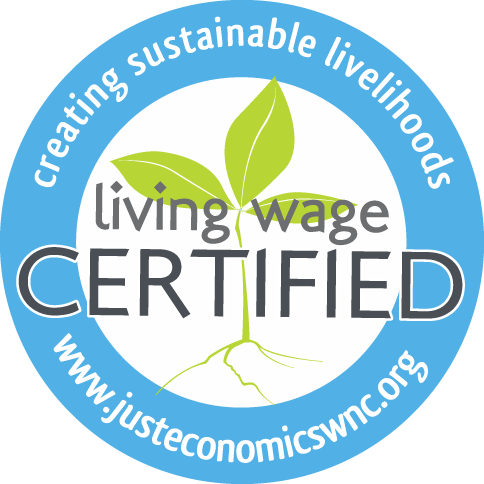 Once you have submitted your application for certification and paid the application fee (if required), a Just Economics' staff person will follow up with you to let you know if any additional information is required in determining your certification. For example, if you have tipped employees, we may need to set up tipped employee interviews. The Just Economics' staff member will then report to the Just Economics' Board of Directors. The JE board meets the third Tuesday of every month and approves applications for certification. Following the Board meeting, you will receive notification of your certification status. After approval you will be added to our on-line and printed directory, and you will receive a packet with your certification sticker, certificate and other certification information. Living Wage Certification is good for two years and your business/organization will be required to re-certify upon expiration.
---