Better Buses Together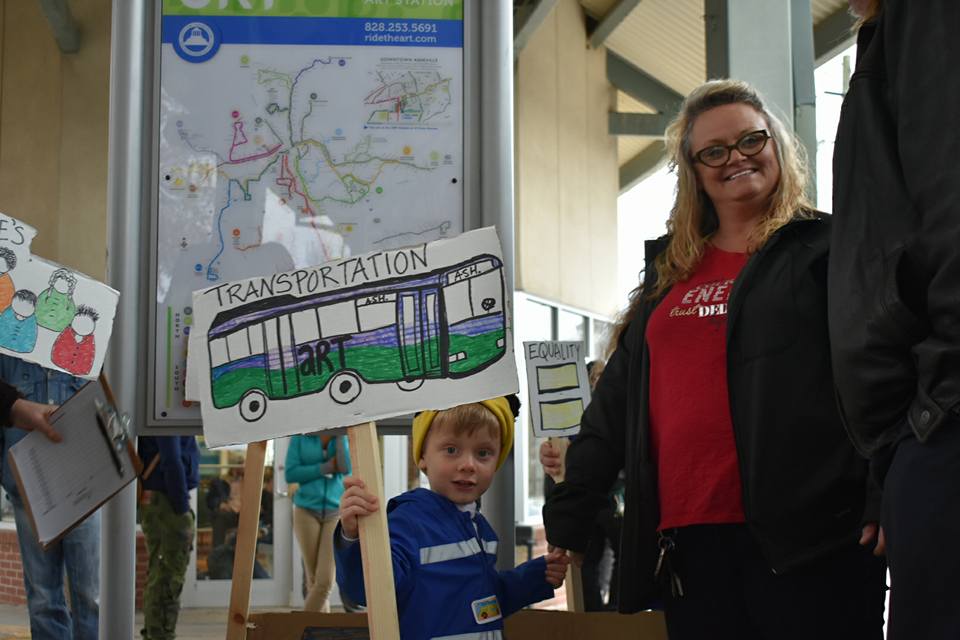 "Transportation with Representation"
Better Buses Together grew out of the People's Voice on Transportation Equality, a group of Just Economics' leaders in that developed the 19 Point People's Agenda for Transportation Reform (scroll down the page for the 19 Point Agenda). This campaign was originated in 2013 by and is led by people who ride the bus out of necessity. 

Better Buses Together has grown and includes riders and allies. We are always working to improve transit for our community in many ways. We meet one-on-one with Better Buses Together riders to get their perspectives and to strategize around our campaigns. We engage with riders at the transit center or on buses a few times a month. We host Riders Assemblies three times a year.
We are focused on engaging necessity riders to assess the needs of the community and best form our strategies. If you would like talk transit or would like to be a part of Better Buses Together, let us know. We'd love to have you join us!
Our 2023 Priorities
Improve transit safety
Fund both the route changes and the extended hours.
Advocate for better transit management practices
Improve ART customer service
Support work toward stops and signage
Follow bus replacement schedule
Hold transit assembly meetings
Advocate for best practices in rider communications
The 2013 19 Point Agenda
POINT 1:  
Sunday Bus Service
VICTORY:
Limited Sunday Service began January 2015
Sunday service on all routes begins Jan. 2018
POINT 2:  
Extend later night service
VICTORY:  
-8 hours added into system, January 2017
-8 more hours coming, January 2018
POINT 3:
Representation by Riders on Transit Committee
VICTORY:  
Calvin Allen & Sabrah n'Raven – first campaign members to serve on City of Asheville's Transit Committee
POINT 4: 
Representation on Multi-Modal Commission
VICTORY:  
Our interests are represented through regular communication with our Transit Committee member on the Multi-Modal Commission
POINT 5:  
Establish Rider Subcommittee
VICTORY:  
Our Transit Campaign recognized by the City to represent riders
Standing item on Transit Committee agenda beginning November, 2017
POINT 6:  
Increase ability to carry groceries on the bus
VICTORY:  
New grocery bag policy
Grocery Bag storage with new buses Fall 2017
POINT 7: 
Annual Review of Stop Locations & Re-instatement of Stops
VICTORY:  
Unsafe stops moved 
Our reinstatement stop recommendations were included in consideration in the Transit Master Plan
POINT 8:  
Add additional areas of service based on basic riders' needs
VICTORY: 
S6 route added in 2017 that included MAHEC (healthcare) and Long Shoals (jobs) corridor
Additional area of service considered currently during Transit Master Plan
POINT 9:  
Easier to understand Transit Info
VICTORY:
Our recommendations for more signage and clearer maps were instated in 2018
POINT 10: 
Address concerns with the C route
VICTORY:  
C route eliminated in 2015 and replaced by S5 and W5
POINT 11:  
Stop and Shelter Maintenance Equity
VICTORY:  
Addressed in the new Management Contract that began in Fall 2017
POINT 12:  
Additional shelters and safety barriers
VICTORY:  
These were included in the Transportation Bond (passed, 2016), our recommendations for new shelter locations were accepted by the City.
POINT 13:  
Improve complaint system
VICTORY:  
All complaints now go through the City and are tracked appropriately Fall, 2017
POINT 14:  
Transit Committee is "hands on"
VICTORY: 
Transit Committee members signed our JE pledge to ride more routes, Fall, 2017
POINT 15: 
Transparent and consistent policies
VICTORY:  
City adopted policies that we drafted and worked with a subcommittee of the City
POINT 16: 
Transparency and public participation through good information sharing
VICTORY:  
Transit Committee has webpage 
Online information and meeting minutes updated 
Signage about public meetings on buses & at the Transit Center.
POINT 17: 
Master Plan Prioritizes Ridership Needs
VICTORY:  
Our members commissioned by City to conduct the Rider survey 
City using our rider survey 
TMP consultants met directly with our Rider Campaign
POINT 18:  
Develop an emergency response plan
VICTORY:  
Adopted as a part of new Policy updates and the new Management Contract, 2017
POINT 19: 
Management Company acting in riders, drivers, and City's best interest 
VICTORY:  
Extensive work in addressing Management Company concerns led to a New Management Company contract, Fall 2017
Take Action
Want to get involved in Better Buses Together?
Email carmenybarra@justeconomicswnc.org or attend an upcoming event.
Any level of participation is appreciated, we would love to have you join us as we continue to work on creating a public transportation system that works for all. Everyone is welcome to join us!